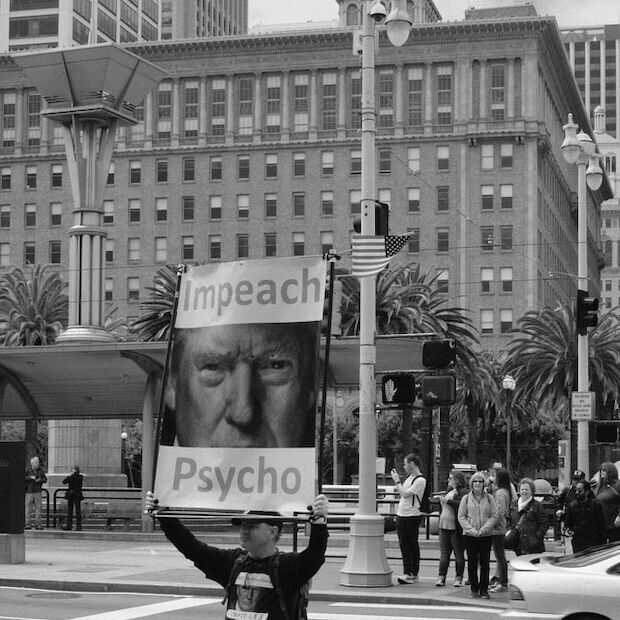 That in the US literally almost any dumbass with money can become president is not news. The ultimate proof of this was provided in 2017 by Donald J Duck, uhm Trump. A millionaire with special (to put it mildly) ideas and a very bad loser. When he had to admit his loss after losing Biden, after an election battle that resembled two arguing bitter grandfathers, Donald chose a different path. He thrashed wildly, 'Election fraud!' shouting and summoning his followers to a coupe. That failed and Trump was banned by almost all social networks in the aftermath, in addition to dozens of lawsuits. No problem for Uncle Donald. He thought it was time to start his own social network: Truth Social. That is, that much is clear by now, not a success at all.
Shortage of money and users
Trump wanted to raise money in a smart way for his own social media platform. I'll spare you the financial details, but the choice was made for a kind of share issue without an official IPO. That process has so far come to nothing, so that Truth Social, which would become the property of the Digital World Acquisition Corp (DWAC), is now in a split. According to SEC information, Truth Social has suffered a $6 million loss and no revenue in the past six months. The company's assets are estimated at $293 million.
Meanwhile, the number of new users for Truth Social is also stagnating. Mainly caused by technical problems. The platform simply does not work flawlessly yet. Most 'Trump followers' have embraced Truth Social after Uncle Donald was banned from all other social platforms and started his own network.
But the network does not grow really fast. Still strange for a 'president' that more than 60 million people (Americans, that is) still supported and voted for in the last election. The latest 'growth spurt' started when Trump's Florida mansion was raided by the FBI.
The lack of growth is also related to the availability of smartphone apps for the social network. The release of the iOS app was anything but smooth. Launched in February, but not available until May. Trump 'fans' with an Android smartphone still can't install an app, simply because it isn't there yet.
Trump goes on happily
Meanwhile, Trump himself happily continues to distribute content – he calls it the real truth – via his own platform. Dozens of his posts appeared this week. Pretty much all content blocked by other social media channels, such as QAnon conspiracy theories.
However, the question is how long Truth Social will last. Trump's ongoing legal troubles have made the network's financial situation even more worrisome. One of the first investors has sued DWAC for breach of securities laws, and it's not entirely clear who is still on the company's board. DWAC itself, meanwhile, is pointing out to potential investors the potential negative impact that the lawsuits currently looming over Trump over his role in storming the Capitol will not do the Truth Social platform any good. Maybe that's a good thing.
Of course, I also believe that you should give bad footballers the ball so that they can eliminate themselves, but there are limits.