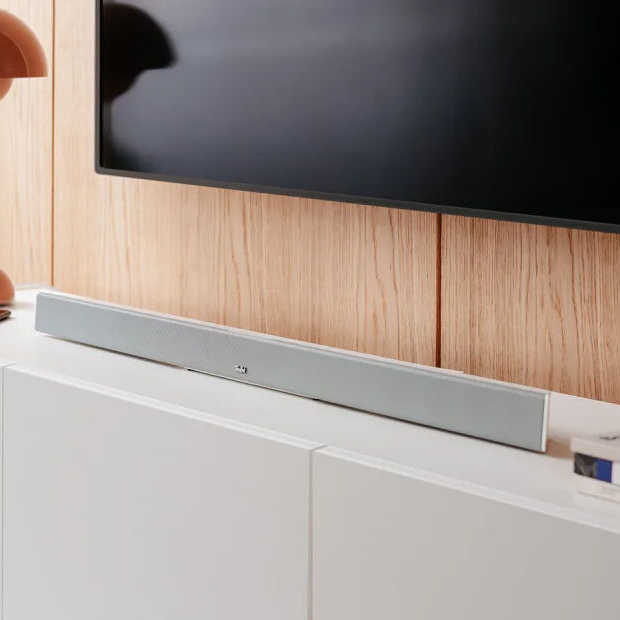 You see them more and more: soundbars. These beam-like speakers are made for under a television, although there are also variants for under a monitor. Is it something for you? These are three reasons to buy a soundbar.
Because your television is not sufficient
A soundbar is a solution for people who love big sound. Sound that television speakers generally cannot produce. That's because televisions need to be as flat as possible, while audio works best when it has some room to grow 'bigger'. It is therefore often the number one reason to buy a soundbar: as an extension of the television sound. Although: the soundbar generally takes over the entire television sound. There are Samsungs where it is a combination, but usually the soundbar is the go-to for the sound from the moment of installation and you do not have to expect this from the television. By the way, a soundbar does use virtual surround sound, which means that it sounds like it is surround sound, but all 'devices' for this are located within the soundbar.
To listen to music via a streaming service
If you want to listen to music via a streaming service, a soundbar can help you with that. Nowadays, a soundbar is increasingly becoming a hub that also offers you access to all kinds of streaming services and that works via Bluetooth and WiFi, so that you can even stream from your smartphone to your soundbar. Especially if you don't want to buy large speakers and immediately want to use them for your television, then a soundbar is a very good way to just listen to music without the television on. They produce a lot of sound and can sometimes also play surround formats such as Dolby Atmos for a good sound experience.
Because it saves space
Maybe you already have a home cinema system very fanatically, but the wires of all the speakers are bothering you. Or do you find those speakers an obstacle yourself. A soundbar is a compact way to replace speakers. In many cases, you will sacrifice a bit on the sound experience, although it completely depends on how much money you spend on a new soundbar. Especially if your home cinema set is a bit older, you will probably improve mainly in sound. You could also consider placing one subwoofer next to it, if you need a little more bass, although those are exactly the items that take up a lot of space.
In any case, if you want to buy a soundbar, check whether the length and thickness of it fits under your television (or if you want to mount it on the wall, whether this is possible in your house). Also check how many ports your soundbar has: if you want to connect a lot of equipment to this, then you need more ports than just one for your television. Also check whether your television brand has a soundbar and whether this still has consequences: with a Samsung it makes a significant difference because the television and soundbar then work together. Other brands may have other pluses when you also choose a soundbar from that brand.
Laura Jenny
When she's not typing, she's traveling around the wonderful world of entertainment or some cool place in the real world. Mario is the man of her life,…