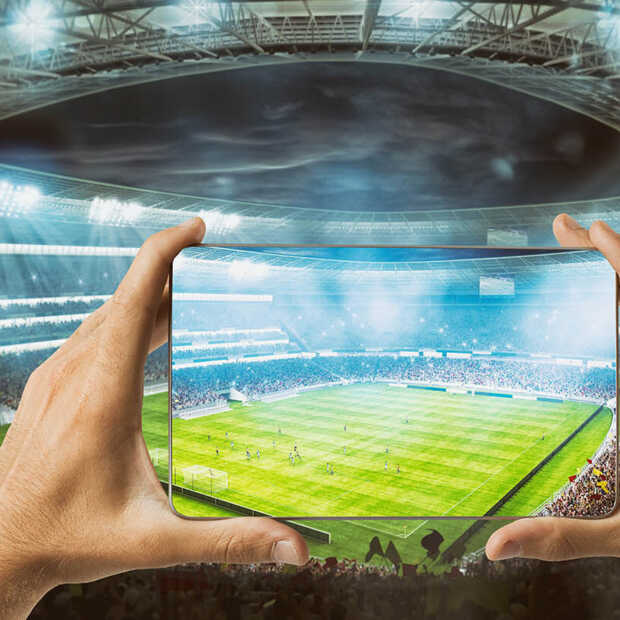 Sports enthusiasts can be found all over the world. One supporter follows his/her favorite team everywhere. The other likes to watch sports at home on the couch. And occasionally you are prevented and you have to follow the match on your smartphone or with one of the various live score apps. During Webexpo in Prague we get a look behind the scenes at Livesport, the company behind the popular Flashscore app.
Speed ​​of apps sometimes frustrating
It's the weekend and you're all set for that highly anticipated livestream of your favorite team. Plate with something tasty on your lap, a drink, lights dimmed, ready to enjoy a great match. But then, in the middle of an exciting action by your team, you suddenly get a message – 0-1 goal against. Not much later you will see on your screen how your team has to deal with the goal against. And you are furious. Not on the other team, but on that report, which came much too early and already revealed the result of the match.
It is a well-known phenomenon among users of the Flashscore network – one of the world's largest providers of sports scores. Flashscore's real-time live scores cause joy but sometimes huge frustration, especially if the broadcast on TV is a few seconds behind.
Live Score Reporting
First some basic information. The Flashscore network has been developed since 2006 by Livesport, a Czech technology company. What started as a local website quickly expanded to other countries and today Flashscore is a global service. Flashscore covers nearly 40 sports and more than 6,200 leagues and is known by sports fans in 47 countries. With over 100 million monthly users and over 100 million mobile app downloads, Flashscore has become one of the leading sources of sports information.
But which sport were the Dutch most interested in? In 2021 it was – unsurprisingly – football, the most watched team was Ajax, the most popular athlete was darts player Michael van Gerwen and the most watched match was the football match between Borussia Dortmund and Ajax, which was watched by 100,000 football fans. The service is available via a web browser (in a responsive version and a Lite version that stores data) and in the App Store, Google Play and Huawei App Gallery.
Flash score
The first thing you see when you visit the Flashscore website or open the app is the list of matches. If you look a little further, you can browse through a huge amount of data from the most diverse sports. The display of the individual sports and competitions can be adapted to your own needs, so you quickly become familiar with the various sections and submenus. Recently, the user experience has been significantly improved, thanks to a redesign by DesignStudio London, the company behind the Champions League and Premier League, among others. Flashscore has moved from a white and green color palette to red and so-called slate black, distinguishing the sports through eye-catching icons rather than colors. These and other changes have clearly made the interface more streamlined and modern.
The world leader in live scoring prides itself on its speed and adaptability to specific markets, each with their own specificities. While sports such as football, darts, tennis, snooker, basketball, golf and volleyball are popular on the Dutch website, the Swedish version of Flashscore has added ice hockey and handball in addition to football, tennis, basketball and golf.
A large database of nearly 40 different sports makes Flashscore a useful tool for fans of the world's most popular football leagues as well as regional sports such as Kabaddi or Australian Rules Football.
Redesign of the apps
Lower Divisions
Flashscore not only brings you the best leagues, but also extensively discusses the lower divisions. Think of the lower football competitions, where you can follow live scores from matches such as Gemert – HVV Hollandia or Dongen – EVV. Of course, these matches don't get the same attention as the Champions League final, but the ability to watch live scores from such a wide range of competitions in one place is quite unique.
Equally unique is the way Livesport obtains and processes data. For the big matches and the top sports competitions it is relatively easy to get official data and statistics, but the lower divisions require a little more creativity from the Flashscore team.
Data processing
The results are processed by data controllers consisting of dozens (even hundreds during the weekend) of people in three locations in the Czech Republic (Prague, Brno and Trebechovice). Together they process hundreds of matches at a time.
The whole process is largely automated, not only to speed up the process, but also to eliminate the possibility of human error. For an experienced administrator, entering a score or scorer change or updating a text commentary takes just a few seconds and a few mouse clicks, allowing him or her to handle multiple matches at once. With more than 400 servers with a data flow of 30 Gbit/s, processing 2 million requests per second is no problem at all.
Screens everywhere to follow matches live.
Speed ​​as the most important asset
The speed with which the live scores are processed is the essence and the major advantage of Flashscore. With the delay that TV or internet broadcasts often have, the notification you get from Flashscore is often a few seconds faster. That's why it often happens that Flashscore users watch sports on TV and in the app at the same time, so that they know 'in advance' what will happen during the most exciting moments. If you don't want to be disturbed during the match, you can set the notifications completely to your liking (for each sport separately – in the app or mute the notifications for a specific match before or during the match.)
The higher the processing speed, the higher the chance of an error. To avoid hyperventilation situations (when a goal is first awarded and then recalled for offside, for example), Flashscore uses the "high probability" icon, which indicates that a goal is likely to be scored, but allows the administrator to resolve the situation first. to analyze and wait for the final verdict. The same happens in a VAR situation, which the user is also aware of thanks to a special icon.
However, Flashscore offers much more than just live scores. Other interesting features include live commentary for registered users, match previews, highlights and detailed match history of each team. This ensures that you can enjoy yourself in the app even before kick-off. The emphasis on custom content is one of Flashscore and its sports editors' strengths.
A nice app to discover yourself
In the app stores, Flashscore gets a lot of positive feedback. But nothing is perfect, especially when it comes to apps. Flashscore also has some features that will be improved soon. For example, they are working on more detailed information about players and their statistics, which can already be found in the app, but not so extensively. Furthermore, it is not yet possible to follow individual players and, for example, to receive a notification for a match in which the relevant player is lined up. Flashscore plans to add this feature soon. Sports enthusiasts will soon be able to vote or predict results in the app.
It is one of the world's leading players in sports scores. Undoubtedly, Flashscore's strengths are its speed, which regularly trumps TV broadcasts, its extensive database of sports scores, extensive statistics with accompanying information and, last but not least, the growing amount of custom content, including text previews and match commentaries, but also live commentary. It is definitely an app for sports enthusiasts to try.
The Livesport office in Prague.
[Fotocredits – alphaspirit © Adobe Stock & Livesport]
Jeroen de Hooge
Jeroen has been involved with Dutchcowboys for more than 15 years. Started out as a content creator, and now responsible for the day-to-day business…