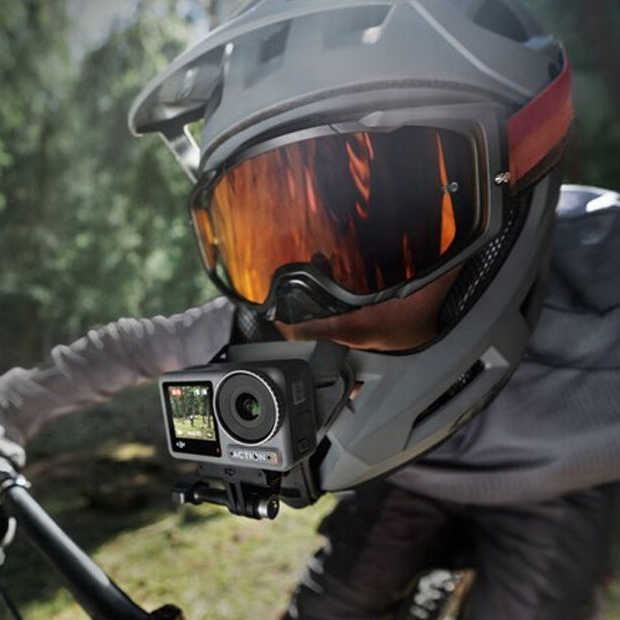 As if they agreed: in the period when a new GoPro is announced, DJI will also come with a brand new Osmo. If we compare the specs of GoPro Hero 11 Black and DJI Osmo 3, which camera is the best?
GoPro is currently the market leader in action cameras, often popular among extreme athletes. DJI is the market leader in drones, often popular among extreme athletes (but also many others). Although it is GoPro's core business, DJI has had a good track record of its own line of action camera DJI Osmo for years. Let's keep the two new products from both brands side by side.
It's a tough comparison because GoPro has gone for a three-camera launch completely against tradition. There is also a Mini variant and a vlogger variant with a microphone, but to keep it as fair as possible we put the regular GoPro Hero 11 Black next to the DJI Osmo Action 3.
Format
GoPro Hero 11 Black weighs 154 grams and measures 7.1 by 5 by 3.5 cm in size. DJI Osmo Action 3 is 0.5 centimeters less high and slightly lighter, even if that is only 9 grams. However, the difference is negligible, so don't worry about it.
Camera sensor
GoPro Hero 11 Black has a 1/1.9 inch camera sensor and with it you can take photos up to 27 megapixels and videos up to 4K (60 frames per second). DJI Osmo Action also makes 4K videos, but can do that at 120 frames per second. However, the sensor is somewhat smaller, so that less light enters (and noise can occur in your photos). The sensor is 1/1.7 inches. 120 frames per second is a big plus, but a camera sensor that's bigger, so is.
Screen
Then the rear screen. That of GoPro Hero 11 Black is no different from that of previous variants. Which means you have a touch screen on the back with which you can review your images. DJI has innovated here: it offers a dual touch screen. The idea here is that you can adjust settings while viewing the images.
Stabilization
GoPro promises a significant improvement in HyperSmooth, the brand's already impressively well-functioning stabilization system. If you race your skis over a few stones on the slopes, you will hardly notice that in your video: bumps are made completely smooth and smooth. You can even hold your images horizontally, while the camera does a full circle. That goes a long way: you can swing it by your arm and the image remains horizontal if you wish. Funnily enough, DJI goes less for horizontal: it seems to leave the whole YouTube idea behind and also makes it possible to make bold vertical images, which you can put on TikTok or Instagram Reels for example. However, GoPro also has an 8:7 video mode, with which you can also make vertical crops. GoPro seems to be a little better prepared in this area.
Battery
Osmo Action 3 has a battery with a capacity of 1770 mAh with which you can film for up to two hours. The battery and camera can function in temperatures as low as minus twenty. Charging to 80 percent is fixed in 18 minutes. GoPro promises up to 137 minutes of battery life when shooting at 1080p at 30 fps, but 80 minutes when shooting 5.3K movies at 30 frames per second. There is no mention of how quickly it is recharged. GoPro does promise to have a full battery in two hours.
Costs
GoPro Hero 11 Black costs 550 euros, unless you purchase a subscription to cloud storage (and replacement service) for 50 euros per year: then the device costs 400 euros. If you want the vlogger edition, which is the regular camera with creator additions such as the microphone, you will lose 780 euros. If you prefer to keep it smaller, there is the GoPro Hero 11 Black Mini for 450 euros. Osmo Action 3 costs 359 euros, but there is also an adventure package with camera, three batteries, a cover, two adapters and an attachment point for 459 euros. In short, DJI's Osmo Action 3 is significantly cheaper.
The winner
Who wins in terms of specifications depends very much on what you already have and what you are looking for now. If you don't want to spend too much money, Osmo is certainly not a bad choice, but GoPro is and remains the uncrowned king of action cameras. The stabilization is very good, you can use accessories and batteries from previous GoPros and there are different types to choose from. However, we were unable to assess a very important facet: the experience with the cameras. But in terms of specifications, GoPro seems to win mainly in terms of software.
Laura Jenny
When she's not typing, she's traveling around the wonderful world of entertainment or some cool place in the real world. Mario is the man of her life,…