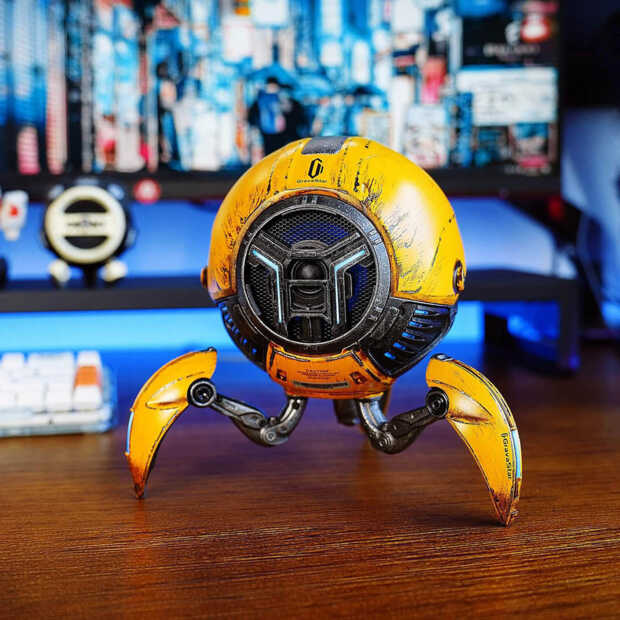 Need a Bluetooth speaker? You can then opt for a common model, but you probably think differently if you have seen the GravaStar Mars Pro speaker. He is reminiscent of some kind of robot spider from a cyberpunk world that constantly monitors what you are doing. Don't worry: it is and remains a 'normal' Bluetooth speaker.
GravaStar
GravaStar is a fairly young brand, which was started in 2018 by Yong. The idea is to create a futuristic, cyberpunk world where hi-fi and sci-fi come together. That is why you see a lot of metal and technology in the products. Yong herself has more than ten years of experience as an industrial designer and works with a lot of love and expertise on the products of the brand. The gadgets are both good in functionality and good to display as decoration. The inspiration comes from Gundam, Star Wars and Transformers, among others, and each gadget tells its own story.
eye catcher
There are probably few speakers with a cooler appearance than that of this copy. You can place this eye-catcher wherever you want: guests will always ask (or only think): 'what is this thing?' It feels like you've stepped into a sci-fi movie and that's very clever for a speaker. JBL may make its speakers waterproof, but few speakers can match the design of this copy. With its 6 RGB lights, it stands out even more. You can set these to one color, but it is also possible to have the colors change in a certain rhythm or make them flicker based on the beat of the music.
Mars Pro War Damaged Yellow
When you buy a speaker, you naturally want to hear good sound. The GravaStar Mars Pro (War Damaged Yellow version) is a Bluetooth 5.0 speaker with passive bass and two speakers. In addition, a DSP audio algorithm has been added to the speaker, making the music experience more balanced. GravaStar promises a powerful sound experience with a solid bass that sounds good, even if you have the device quite loud. The shape of the speaker and the material help: zinc.
Specs and more
The speaker has a battery life of 15 hours, which makes it a handy travel companion. Plus, you can pair it with another Mars Pro to create a stereo experience. You can easily turn this speaker louder and softer with the touch-sensitive spots on the device. Moreover, thanks to its shape, this speaker can take a beating. High-quality materials have been used, which means that this is a speaker that really doesn't have to be at home alone. It is about 19 centimeters high, so it fits in your bag. It is probably a bit heavier than other speakers, but that is mainly because it is also more solidly prepared.
It may not be a funny thing, but there is clearly a lot of love in the development of Mars Pro. This is a speaker that you don't easily lose sight of and that is also a great topic starter at a party. The GravaStar Mars Pro War Damaged Yellow Bluetooth Speaker is available now for $329.95.