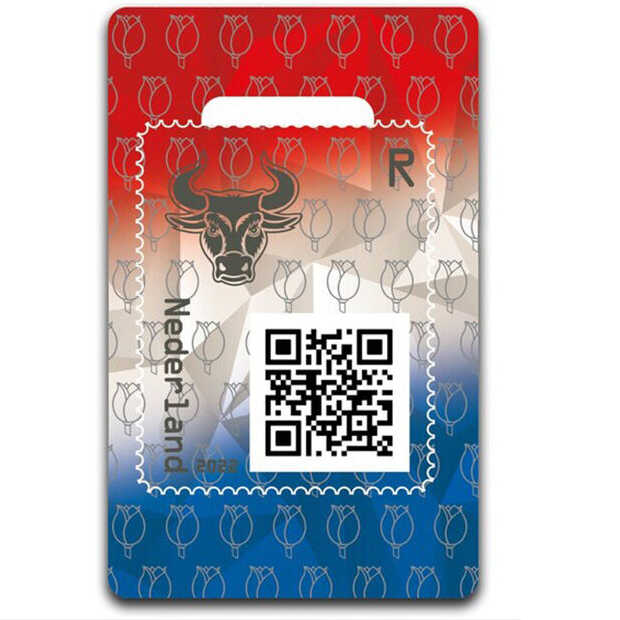 A water buffalo (which is often mistaken for a bull), a Dutch flag and tulips: when a company like PostNL makes an NFT stamp, it is not one with our king on it. Nicely Dutch and even without the well-known orange PostNL colors. The NFT went on presale today and more than 3,000 people lined up to get hold of such a non-fungible token.
NFT PostNL
It is expensive for a stamp, but for an NFT it is a bargain: PostNL's non-fungible token will cost you 9.05 euros. What you get for that is a paper stamp with a digital variant (of which the NFT gives you unique ownership over the digital stamp. A new way of collecting stamps, which attracted thousands of people when it went live this morning.
The NFT is in the form of a debit card, so you can slide it into your wallet. On the first side is the paper stamp with a QR code. That QR code shows the color of the digital variant of the NFT (there are five colors), while the other side contains a list of passwords. This allows you to transfer your NFT if necessary. After all, an NFT is normally nothing more than a digital proof of ownership of a digital object. The fact that PostNL comes up with codes that are on the physical stamp is to prevent fraud.
Collecting stamps
PostNL started this initiative with an organization that previously successfully launched a postage stamp NFT: the Austrian Post. The NFT was therefore created by David Gruber, an Austrian designer. There are two versions of the water buffalo: that of the Netherlands is not the same as that of Austria. In Austria, the NFT comes out at the same time as the Dutch one. Yet another reason to start collecting NFT stamps.
On the other hand, there are also reasons not to do it at all. The NFT market is not going very well at the moment. Many people think it's part of the start-up phase of this young concept: but there are others who argue that the NFT hype may be over and even slowly disappearing. However, PostNL did have a half-hour queue when it threw open its presale this morning, so there are definitely people out there who aren't done with the blockchain tokens yet.
Blockchain
Those people all have a Metamask wallet, because that's how you buy the NFT. The physical version will be sent later and that also explains the 9.05 euros: that is exactly what a stamp costs for registered mail. It is expected that the stamps will be worth considerably more, but of course this is always just speculation.
The PostNL NFT will be published on 22 September, but can already be pre-ordered now. Once they're out, you can order a maximum of 25.
Laura Jenny
When she's not typing, she's traveling around the wonderful world of entertainment or some cool place in the real world. Mario is the man of her life,…