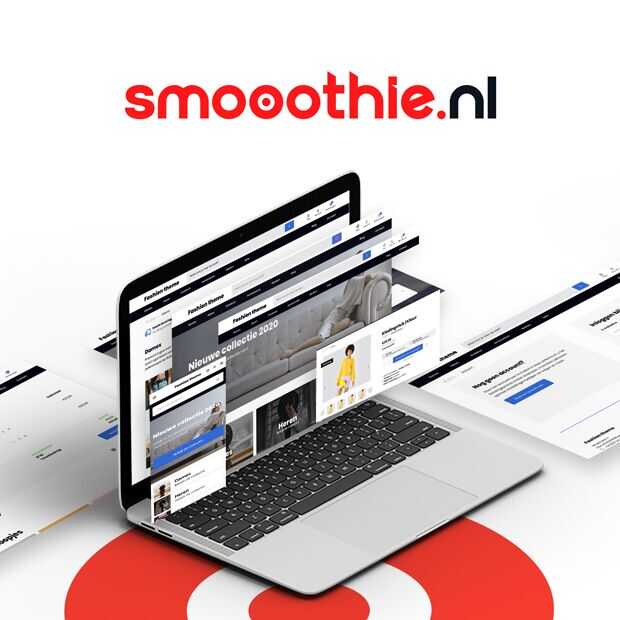 Roosendaal's online marketing agency Red Banana has launched a new service: Smooothie. With this service they provide customers in an efficient and fast way with 100% reliable, fast and user-friendly webshops, made with Lightspeed. A Smooothie webshop contains all the essentials that a professional webshop needs. The webshop service consists of a framework that is built on the basis of the latest techniques, knowledge and more than 10 years of experience. Red Banana offers a Smooothie webshop in different packages with different prices. This way you choose how extensive or personalized your webshop will be and there is something for everyone.
The benefits of Smooothie
The biggest advantage of Smooothie is that you are assured of years of experience combined with the latest techniques.
We have developed hundreds of webshops in more than 10 years. Thanks to our expertise and experience, we know exactly what a professional webshop needs. With the greatest care, we have bundled everything into one mix: Smooothie. – Mark de Hooge, creative director at Red Banana
Smooothie is therefore a webshop framework and has been compiled with the greatest care. Based on knowledge and experience, Red Banana's designers and developers ensure the best performing webshops. A Smooothie webshop is therefore fully focused on conversion, lightning fast, user-friendly for both the visitor and the webshop owner and the webshop is of course responsive for every screen. In addition, the Smooothie webshops are extensively tested and further developed, so that the webshop is always up-to-date. Thanks to the bundling of all knowledge and techniques in one framework, a Smooothie webshop can also be delivered very quickly and of course you get all the help with going live. A Smooothie webshop is therefore all you need and is the new standard for webshops.
Different packages: how do you mix your Smooothie?
A Smooothie webshop contains all the advantages that you will find above. A complete webshop, including homepage, category pages, product pages, shopping cart, checkout, blog environment and personal environment for customers. This is standard, because Red Banana does not want to compromise on quality.
Is there still something to mix? Yes, of course! You can choose from different packages. In addition to a standard Smooothie, which they say is already huge Smoooth, you can opt for a custom medium package, where you get a fully customized homepage. And if you want a completely custom webshop, this is of course no problem. You will receive the best of Smooothie, but fully customized.
Give away: the Smooothie Academy
The great thing about a Smooothie webshop is that you not only get a complete webshop, but also free access to our Smooothie Academy. When you choose a Smooothie webshop, our learnings can be viewed for free and unlimited. Think of it as an extra to your delicious Smooothie webshop. Even if you already have a Lightspeed webshop, you can use the Academy for free as a beta version.
What can you expect from the Smooothie Academy? Whether you are a novice or already completely at home in the Lightspeed environment and the world of webshops, our Academy is interesting for every Lightspeed user. The Academy consists of 11 courses containing information, quizzes and videos. We teach you everything you need to know and more! For example, you learn everything about the correct settings for your webshop. But you also learn how to take good product photos and how to set up a social media strategy. Moreover, it is a learning environment in which you can follow everything at your own pace. Have you completed all Academy courses? Then you are a real Lightspeed expert!
Red Banana and Lightspeed
Red Banana has been an official Lightspeed Partner since 2011. Lightspeed is a SaaS solution for webshops. It is known for its excellent user-friendliness, the fine backend, good indexing in Google and, last but not least, Dutch support. Still unknown territory for some, but for Red Banana absolutely the number 1 webshop CMS. And as a Silver partner, Red Banana is always aware of the latest developments, so that the webshops are always further developed for the best online performance.
Are you ready for a new refreshing mix for your webshop and have you become curious about the possibilities of Smooothie? Then take a look at the Smooothie website and contact the webshop experts of Red Banana directly.
Jeroen de Hooge
Jeroen has been involved with Dutchcowboys for more than 15 years. Started out as a content creator, and now responsible for the day-to-day business…