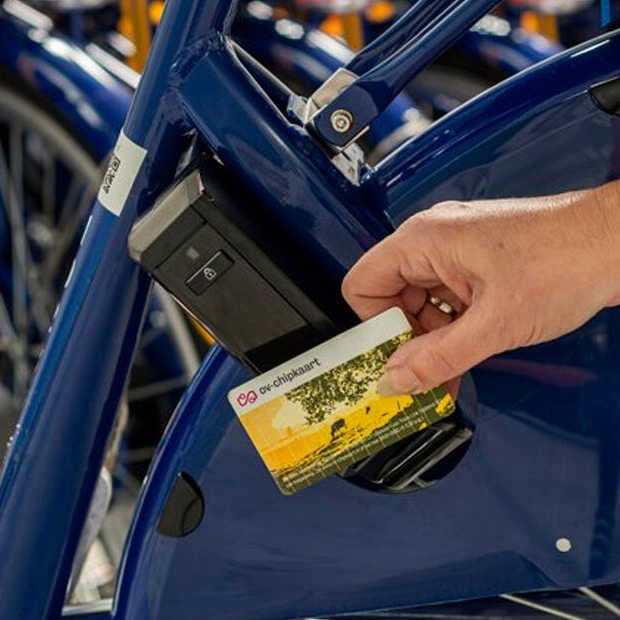 NS has made a major upgrade to its public transport bicycles. Where these were normally ordinary, simple bicycles with a light, they are now supplied with much more electricity: the public transport bicycle is becoming electric. The rental of the OV-ebike will start this month.
Electric public transport bicycle
The public transport bicycle is a household name in the Netherlands, especially because we do not yet have a legal way to use electric scooters. As a result, the public transport bicycle has been a very popular means of covering the last kilometers to your destination for years. There are therefore 22,000 in the Netherlands. The idea is that you get off the train, have your OV chip card scanned and get an OV bicycle. You can then cycle around for only a few euros a day. When you board the train back home, you can return the bicycle and the rent will be paid via your OV chip card.
A great initiative: no deposit is required, no complicated paperwork and you can cycle within a few minutes. However, you sometimes have to reserve them, because the bicycles are extremely popular at some stations. By the way, they are always the same bikes, so you immediately recognize them: blue with yellow, solidly built and equipped with a luggage carrier. Not every station has them, but especially in the big cities you will often find bicycle sheds full of them.
Thirty bicycles
Soon also electric. Initially, the electric public transport bicycles are still rare, because it is initially a pilot of only thirty e-bikes at 4 stations. A pilot that lasts a very long time: no less than a year. NS thinks it will take that long to find out whether these ebikes are a valuable addition to the normal public transport bicycle. It is to be hoped that more stations will be added during the year, but on the other hand ebikes are pricey and considerably less vandal-proof than a regular bicycle.
In any case, this is the first for Driebergen-Zeist station. That is typically a station where people can use a bicycle to ride that last kilometer. There you will find ebike public transport bicycles from 30 September. The price is also very reasonable. Where a regular OV-fiets costs 4.15 euros per day, it is only 10 euros per day to rent an OV-ebike. After three days it becomes a bit more expensive: then it costs 15 euros per day. You get 110 kilometers on eco mode, but normally 70 kilometers. However, if you put it on the highest setting, you can't get more than 50 kilometers out of it. Not a great performance, but totally fine for that small part that many people cover on the public transport bicycle.
Can't charge
There is, however, a catch: you cannot charge the bike yourself. Although we expect that people will undoubtedly find a workaround for this, NS indicates that you always bring your public transport ebike with you fully charged and that you have to make do with that. If you forget to hand in your OV-ebike, it will cost 1750 euros after three weeks. If you cannot return it because it has been stolen, you must inform the NS as soon as possible: in this way it can read the GPS tracker on the bicycle to check where it is.
It is not the case that if you rent it, NS will check where you are cycling without reporting the theft. Although it certainly looks at usage and travel distances in the pilot, it separates the personal data from the location data. The supplier of e-bikes does not know who has the bicycle, but does know where the bicycle is. NS in turn knows who has rented the bicycle, but not what the location is.
Laura Jenny
When she's not typing, she's traveling around the wonderful world of entertainment or some cool place in the real world. Mario is the man of her life,…