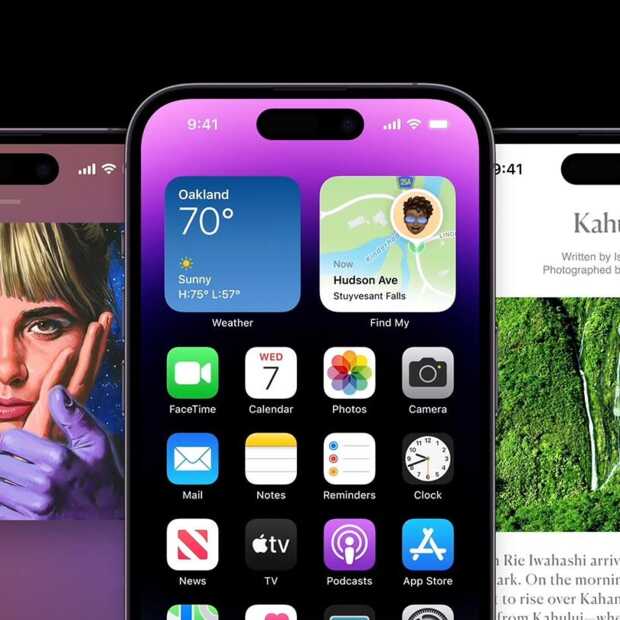 Since the launch of the iPhone X in 2017, the notch has become an integral part of Apple devices. But, this is a thing of the past: the notch in the screen on the iPhone 14 Pro and Pro Max makes way for a Dynamic Island. This is an oval selfie camera, which is smaller than the notch and can change shape. As a result, the latest devices have more screen. We tell you what you can expect in this article.
What exactly can the Dynamic Island do?
For a long time there were rumors about the complete disappearance of the notch on the iPhone 14 and the addition of a punch hole display. These rumors are partly true: Apple has opted for a unique Dynamic Island on the Pro models at the location of the notch. Although you will still see a (albeit smaller) black bar, it has been given various functions.
As the name suggests, the bar is dynamic. It automatically changes shape with different apps, notifications and messages. For example, do you get a call? Then the bar gets bigger and you see who is trying to reach you. You will also see this reflected on the island when you listen to music or share files via AirDrop.
On the iPhone 14 and iPhone 14 Plus, there is less change in design compared to the previous model: these devices still have a notch in the screen.
New colors available for iPhone 14
Not only is the notch gone, the iPhone Pro and Pro Max are also available in a new color: deep purple. We have never seen this color on an iPhone. It is therefore expected that devices in this trend color will become very popular. You can also buy the iPhone 14 Plus in new colors, namely lilac and light blue. So there is always one that suits you!
Strong and luxurious housing
Like the predecessor, the iPhone 14 Pro models are designed to last. The Ceramic Shield makes the display super strong. In addition, the housing is made of high-quality stainless steel. These features also give the devices a luxurious and sleek appearance. The iPhone 14 and iPhone 14 Pro are made of strong and high-quality aluminum and also have a Ceramic Shield.
All models from the iPhone 14 series can withstand a splash of water: they are splash, water and dust resistant. As the smartphones meet the IP68 resistance standard, they can remain underwater for up to 30 minutes at a depth of 6 meters before the water can penetrate.