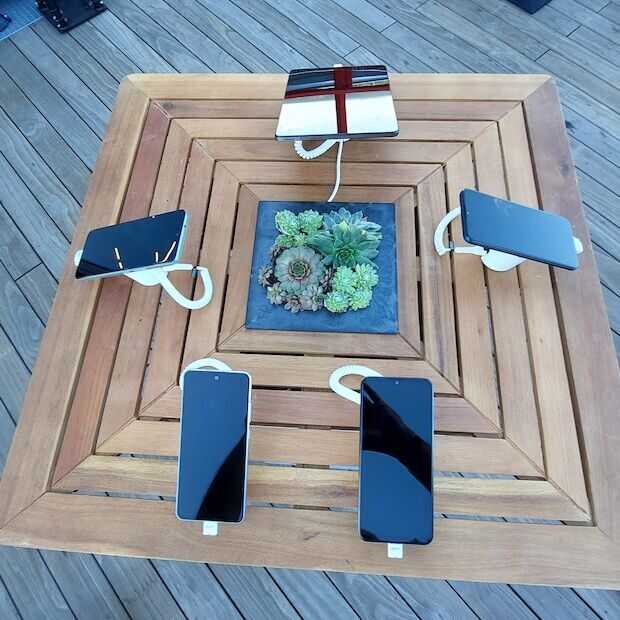 HMD Global, the parent company of Nokia smartphones and tablets, has announced two new smartphones and a tablet at the IFA in Berlin, from the roof terrace of the regional broadcaster RBB. In addition, the company announced that the Circular subscription, for a more sustainable use of devices, will be launched in the UK and Germany. In fact a new form of 'accessories', but with a 'green' sustainable approach. A bit like Fairphone announced a few months ago.
Circular: device lease with a sustainable touch
Users who take out a Circular subscription with Nokia can choose another device at any time they want. Of course against payment of a (new) monthly rate. The idea is that the 'old' devices are recycled, refurbished and reused by Nokia or donated to charities. The subscription also includes any damage, loss or theft, plus a replacement device if needed. The rates for a Circular subscription are between 12 and 30 euros per month, depending on the device you choose.
Users who decide to keep their devices longer will receive a reward through the 'Seeds of Tomorrow' program. The longer someone keeps a device, the more 'seeds' they receive to spend on a range of sustainability and charitable causes: planting trees, removing carbon from the atmosphere, clearing plastic from rivers or providing connectivity to people in need. That is, of course, very much Nokia's 2022. The question is, however, whether these green arguments will now make device lease a success. It is a subscription form that has been tried by several providers and manufacturers in the past, so far still without success, at least in the Netherlands.
The two new Nokia smartphones
New Nokia smartphones
So three new Nokia devices were presented in Berlin. The most expensive (549 euros) is the Nokia X30 5G. It has a frame made of 100 percent recycled aluminum and a back of 65 percent recycled plastic. Furthermore, the 50-megapixel PureView camera with optical image stabilization (OIS) and AI software to take wide-angle and night shots are notable. The device has a 6.43-inch screen and of course runs on Android One.
The Nokia X30 5G will be available from the end of September on nokia.com in Cloud Blue or Ice White, in memory and storage configurations of 6/128 GB and 8/256 GB, starting at an average price of 519 euros (6/128) and 549 euros (8/256).
The cheaper Nokia G60 5G is also largely developed with recycled aluminum (100%) and plastic (60%). It also has a 6.58-inch FHD+ 120Hz screen, a triple camera with 50 MP and AI software. This is also an Android One device.
The Nokia G60 5G is available today in Pure Black or Ice Grey, in memory and storage configurations of 4/128 GB and 6/128 GB, starting at an average price of 329 Euros (4/128) and 369 Euros (6/128). ).
Nokia is also still holding on to the 3-3-3 promise. This includes three years of Android OS upgrades, three years of monthly security updates, and a three-year extended warranty at no additional cost. With those updates, things did not go so smoothly in the past. It sometimes took a long time for certain devices before updates were rolled out.
During the press conference in Berlin, HMD Global also presented the Nokia C31, a device that will cost less than 120 euros. That will be the device that you can 'get' with the Circular subscription for 12 euros per month. For the time being, the C31 is not officially coming to the Netherlands. This may also have to do with the fact that Circular is not yet available in the Netherlands.
The view from the roof terrace where HMD Global put the new Nokias in the spotlight was at least worldly 😎
Affordable tablet and wireless speaker
Finally, HMD Global also presented an affordable tablet and a portable wireless speaker. The tablet, the Nokia T21, has an aluminum housing. The plastic parts are again made of largely (60%) recycled plastic. In addition to the standard model, there is also a business version, with NFC and a stylus.
The Nokia T21 will be available from the second half of October on nokia.com in Charcoal Gray in a memory and storage configuration of 4/64 GB and will be available from an average price of EUR 249 (WiFi) and EUR 269 (LTE).
The Nokia Portable Wireless Speaker 2 will be available from the second half of September on nokia.com for an average price of 59.99 euros.
Ron Smeets
Ron made his mark in Telecom as a Mobile Cowboy. After almost 15 years, he was ready for a new challenge as an independent freelance journalist,…