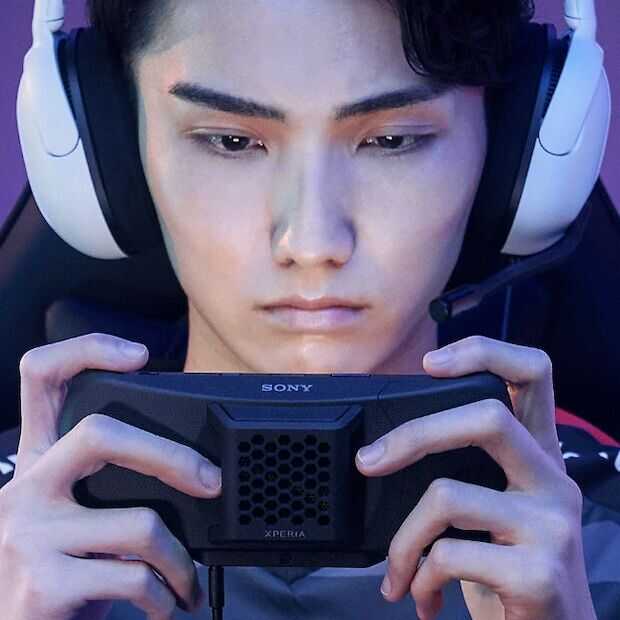 Sony and gaming go together like mayonnaise and ketchup. In other words, gaming is part of Sony's DNA. The combination of Sony and smartphones is one that has been accompanied by a lot of trial and error for many years. For years Sony made smartphones with a clear 'face' of their own. However, this rarely led to great success. The devices received a lot of praise, but only slowly found their way to the consumer. This also applied to the 'first real' Playstation smartphone, the Xperia Play from 2011.
Externally cooled gaming smartphone
But, looking at the DNA of Sony, it is certainly not a crazy idea that the Japanese manufacturer combines gaming and smartphones. That is exactly what the manufacturer is doing with the announcement of the Xperia 1 IV Gaming Edition, not for the first time. And it has a special feature that will not surprise hardcore gamers: an external cooling.
No superfluous luxury, it seems. Smartphones whose screen is on continuously for a longer period of time can already get quite warm. And if the processor and memory are also thrashed, it wouldn't be the first time that a device just gives up. Sony has also had to contend with this in the past, with previous gaming and entertainment smartphones. Partly for this reason, the latest gaming smartphone comes with a standard 'case' with a built-in fan that should ensure that the device does not get too hot.
Xperia 1 IV Gaming Edition
It should be clear that the new Sony gaming smartphone is one with top specs. It has a 6.5-inch 4K 120Hz 21:9 ultrawide OLED screen, 16 GB of RAM and a Snapdragon 8 Gen 1 processor. Although more and more gamers are playing online, the Xperia 1 IV Gaming Edition also has 512GB storage capacity, for those who want to save games locally.
Sony has not yet announced what the gaming smartphone, with included cooling, will cost. The 'standard' Xperia 1 IV – with 12GB RAM – has a suggested retail price of 1399 euros. Yes, you read that right, and that for a Sony smartphone. Don't assume that the Gaming Edition will be cheaper. And that is quite an extreme amount of money for a smartphone, even if it has gaming specs and a cooling!
It is not yet known when the new gaming smartphone will be available. So it remains to be seen whether this will become a – very pricey – alternative to the barely available PS5.