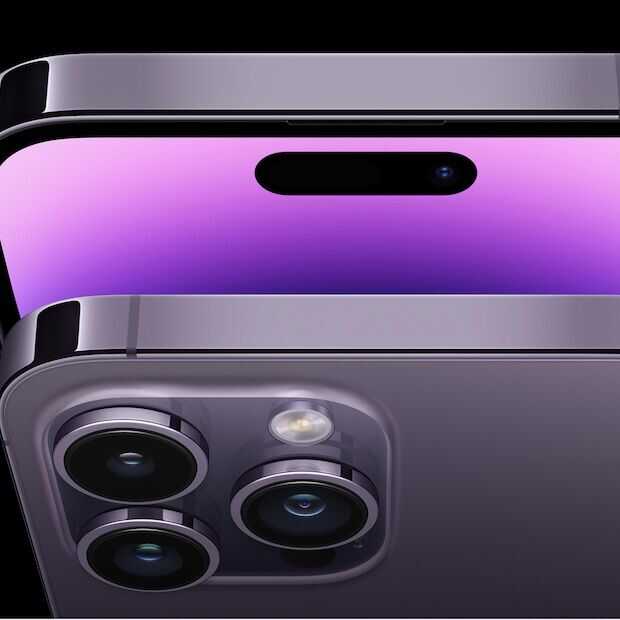 It is not the first time that rumors about a next iPhone are already erupting before the latest model is well and truly in the shops. In fact, the first iPhone 15 rumors date back a while. This weekend, shortly after the retail launch of the iPhone 14, the rumor for the next smart phone from Apple – which will therefore see the light of day in September 2023 – has been rekindled.
Dynamic Island on all iPhone 15 models?
The most recent rumor comes from supply-chain analyst Ross Young. He claims in a tweet that the so-called 'Dynamic Island' will be available on all models of the smartphone from the iPhone 15. For those who missed it, the 'Dynamic Island' is the 'in-dysplay display' that Apple introduced to replace the notch in the more expensive models of the iPhone 14; the Pro and Pro Max.
No 120Hz screen for iPhone 15
The analyst also claims to know that the cheapest version of the iPhone 15 will not yet be equipped with the 120Hz LTPO screen that enables the always-on display of the iPhone 14 Pro and ProMotion feedback. The reason for this would be that the current supply chain of iPhone screens cannot handle that extra production – and delivery.
As with all rumours, especially with the iPhone, it remains to be seen how close they will eventually come to reality. We now have more than 11 months before that, so a lot can change before that. And, that too is a certainty, there will also be a lot of (nonsensical) rumors to follow. Just to say it in good English 'Don't get your hopes up to soon'.