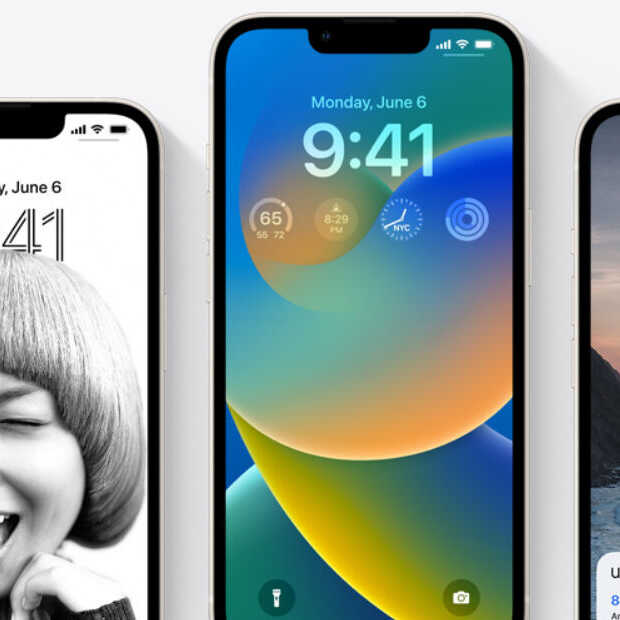 iOS 16 arrives tonight, which means your iPhone probably has a hefty update to download and install. An update worth having, even if it's not quite complete yet.
iOS 16 comes with all kinds of innovations that are very cool. For example, Apple has realized that smartphone screens are very large and it is quite difficult to reach the very top of the screen with your thumb. That's why it now shows notifications at the bottom of the screen, where you can easily tap and use them. Media like Apple Music also appears at the bottom, so you can easily pause or continue.
iOS 16
In any case, major changes are being made to the messaging app: you will soon be able to delete or edit messages that you have already sent in iMessage. Editing is very useful because it allows you to correct a spelling mistake. Please note: only people who are already using iOS 16 can see your modified message: this does not apply to people who are still on iOS 15 or lower.
In the Photos app, iOS can now do something very special, which is to cut objects from photos via artificial intelligence. Imagine that you have taken a picture of your cat in the grass, then all you have to do is hold your finger on your cat for a moment and you can drag it to another app as if it were some kind of sticker and use it. Without grass, only your cat itself. The nice thing is that in the new library you can also more easily share photos with others, after you have created a shared library within iCloud.
In addition, major visual changes are also coming to iOS 16. For example, the lock screen is made significantly more attractive by giving you the option to choose different fonts and colors for widgets. For example, you can quickly display the weather widget or the battery percentages of your AirPods in a design that suits you. It is also possible to save different lock screens, so that you can switch: when you are at Lowlands, battery and weather is important, but maybe you prefer to know the latest news at work. iPhone can even change it based on location.
iPhone 14
In addition, Apple chooses to add new backgrounds, such as with live weather, as we already wrote in the announcement of iPhone 14. It is also possible to use all photos as a clock or to make a wallpaper with emoji. Also new is Live Activities, a notification screen that can always be found above the rest. Here you can see, for example, where your Uber is or whether PSV has already scored.
There is also haptic feedback when you tap something on your smartphone, so that you feel a vibration with every tap on the screen. And although vibration often makes a lot of noise, this vibration should be completely silent. To turn it on, go to Settings, Hear & Feel and then Keyboard Feedback.
Day CAPTCHA
Speaking of feedback: the Translate app is also available in Dutch with iOS 16. This allows you to have entire texts fully translated from other languages ​​into Dutch. Just like Google Lens on Android, you can also quickly take a picture of the menu in a restaurant to translate what a certain product is. In mail you will soon be able to schedule e-mail and it will be easier to find what you are looking for. In addition, you can now lock photo albums with your biometric data. Big plus: FaceID also works when your device is on its side.
Finally, there is another interesting innovation, because Apple is saying goodbye to the CAPTCHA. It comes with Private Access Tokens that allow you to prove that you are a human and not a robot. Saves the uncertainty of choosing a good photo. Those tokens are built into iOS 16 so that you no longer have to deal with those commands on sites that support the new system.
However, there are also features that are not yet directly in iOS 16 but will come later. Think of Maps, which shows a new view of the map (including 3D views of buildings). It will also take a while before FreeForm comes to iOS 16: that is software that allows you to write and draw in a document with several people at the same time. Bad news if those Live Activities make you happy: they aren't immediately available at launch either. HomeKit would also be improved, but we will not see that immediately tonight in iOS 16.
iOS 16 appears on iPhone 8 and newer.
Laura Jenny
When she's not typing, she's traveling around the wonderful world of entertainment or some cool place in the real world. Mario is the man of her life,…