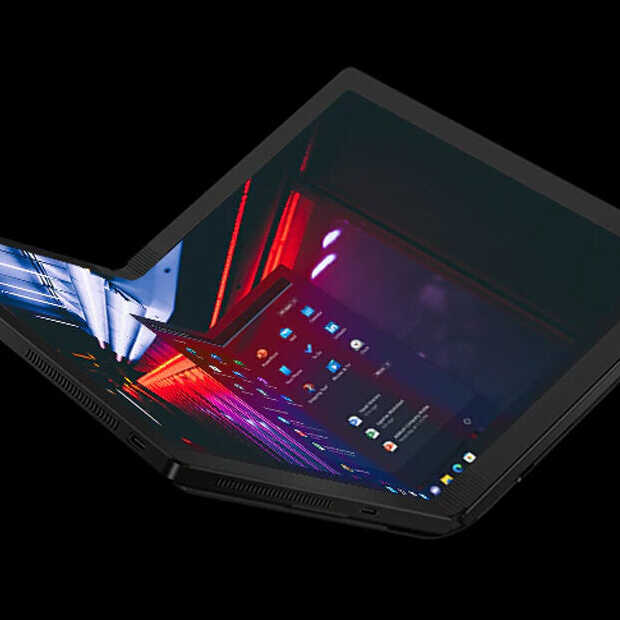 The technology fair IFA 2022 has proved it: as consumers, we all have to get to the foldable, bendable and rollable screens. For example, various brands have shown gadgets that do not have a sturdy, sleek glass screen, but rather flexible variants.
ThinkPad Fold X1
We should have known: of course, following a smartphone that is foldable, there will also be a laptop that you can use in the same way. In any case, hybrid laptops have become increasingly popular in recent years: the handy thing is that thanks to the special hinge you can make a kind of thick tablet from the laptop, while you can also type freely on it if you want to, like a regular laptop. laptop works. Now it's the turn of the next step for these lap computers: folding screens.
Lenovo presented the ThinkPad Fold X1 at IFA, a laptop with a foldable OLED screen of no less than 16.3 inches. When folded, you're left with a laptop with a 12-inch screen. It is not the first time that Lenovo has come up with a laptop with a folding screen, but the one from earlier was 13.3 inches and therefore a lot smaller. That was actually still a kind of prototype: the new device has a nice thin design and much narrower screen edges. This is actually the device that Lenovo should have unveiled as the first foldable laptop (or at least: a laptop with a folding screen). By the way, it is a pricey model: it costs $ 2499 (the Dutch price is not yet known).
LG Flex
Asus has also introduced a laptop with a foldable character, namely Zenbook 17 Fold. The device has a 17.3 inch screen and can be folded in the middle. You can also use the laptop as a large tablet, making it a hybrid laptop with an interesting gimmick in terms of the fold. This laptop will be available in the Netherlands around the holidays for a hefty amount of 3699 euros.
LG takes it a bit bigger: that comes with a television screen that is flexible. You can't roll it up and carry it in a tube, but it is a very curved 42-inch screen that can do 20 different bends, so you can place it at the right angle. The device is called LG Flex and you 'flex' it by pressing a button on the remote control, after which a motor goes to work to actually bend the screen deeper or less deeply. You can also do it manually, but many people will probably choose 'safe' for the motor. What this special device will cost is still unknown.
Smartphones
In terms of phone announcements, IFA 2022 was a bit quieter. For example, no new, foldable devices have been announced. Many makers prefer to take their own moment for this, such as Samsung last month with its new Galaxy Z Fold 4. And although it is not foldable, JBL did introduce us last week to a new product with a screen: an earphone case. But those screens won't be bendable any time soon. In addition, the public will probably enjoy the new trend in laptops for a while, although they will have to wait until they can become a bit cheaper and therefore more common.
Would you like to know more about the special gadgets that we have encountered on the exhibition floor? Then also read '15 remarkable gadgets from IFA 2022′.
Laura Jenny
When she's not typing, she's traveling around the wonderful world of entertainment or some cool place in the real world. Mario is the man of her life,…