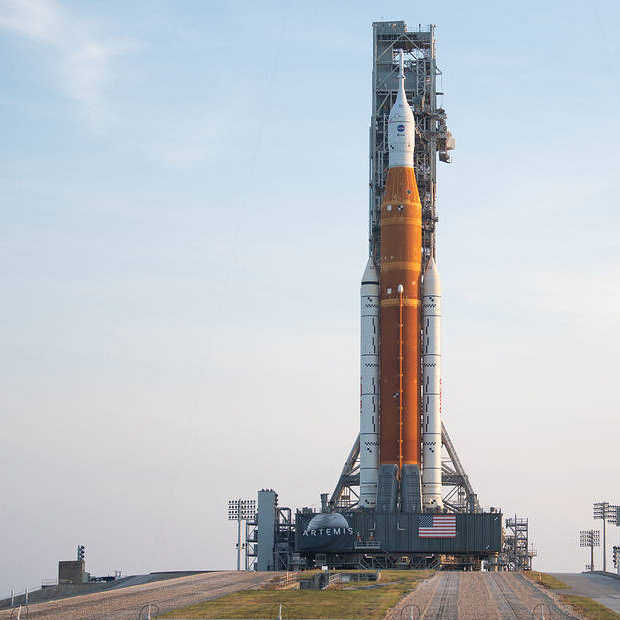 NASA has successfully refueled the Space Launch System. The rocket was completely filled with fuel. A tough job, because there has to be so much that it takes 7 hours before the refueling is completed. And then it also has to be refueled. It's not possible with the ultra-combustible cryogenic fuel to say: we'll leave it in there for a few days until launch.
Leakage
In any case, it's good news that everything went well with the fuel. Until now, this has always been a hot topic. Various leaks ensured that the dress rehearsal did not go well, but also that the previous launch could not take place. That leak has now been closed and it appears that fuel can now also be successfully added to the device. The 2649,78825 liquid hydrogen and liquid oxygen have not leaked again.
It sounds crazy: why do you keep getting such a leak. Still, it's not just a matter of duct taping and that's it. What happens when liquid hydrogen and liquid oxygen are put in the tank is that it shrinks 15 centimeters. Now a rocket is generally not made of flexible material, which means that the material gets problems under the pressure. That is also unavoidable, says NASA. In any case, a leak is created from which highly flammable liquids and gases leak, but by raising the temperature a bit, this could be kept within limits.
Artemis I
It will be the third attempt to launch Artemis I on September 27, if all goes well. The Orion rocket is planned to fly to the moon in six weeks. It does not land there: it stays in orbit around the moon for a while and then returns. The intention is that the spacecraft will be reused. It's not all about Orion's performance, though. The more than 100 meters high SLS (Space Launch System) will soon also take astronauts to Mars. However, that is still in the future.
If it doesn't work on September 27, a new attempt is planned for October 2. It cannot take place for several reasons: of course a potential new leak plays a role, in addition to the weather, but it is also questionable whether NASA will receive a permit in time for the launch to take place.
The aim is to bring humans to the moon by 2025 with the Artemis III mission.