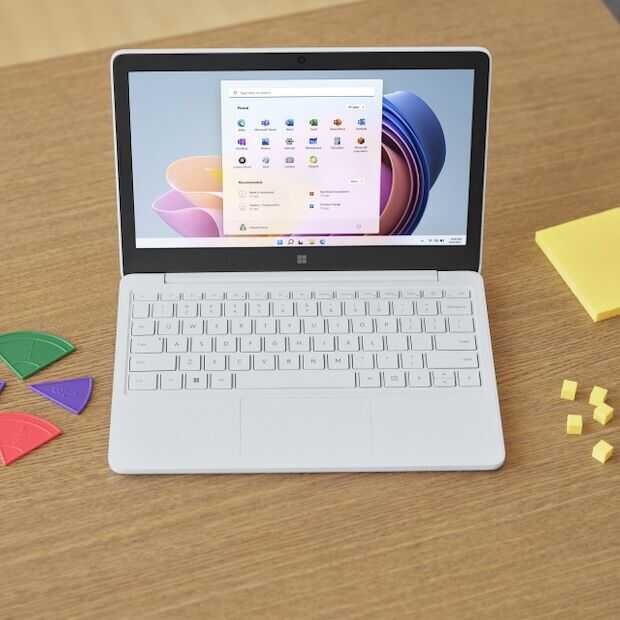 Microsoft will bring the Surface laptop SE to the Netherlands in December. With a price tag of 299 euros, this might be a great Christmas gift for school-age children. At least that is what Microsoft must have thought when they decided to market this laptop, which was specially developed for students, in our country halfway through the school year.
Compact and affordable
The Surface Laptop SE has a compact design, partly thanks to the 'tablet-sized' screen of 11.6 inches. The battery has sufficient capacity to use the laptop for up to 16 hours before it has to be connected to a charger again. And should schools have to deal with corona stuff again this winter, the built-in HD webcam will help with video lessons.
Also not unimportant is the fact that, according to Microsoft, the Surface Laptop SE is designed in such a way that it can be repaired relatively easily. Especially for kids who are a little less tidy with their stuff. Therefore, important components such as the display, battery, keyboard and also the motherboard are designed in such a way that they can be easily repaired on site. This not only saves time, but is also cheaper according to the manufacturer.
Schools as customer
The manufacturer hopes that thanks to the friendly price tag and other benefits, the laptop will also be eagerly sought by schools themselves. Which they then purchase to use in workplaces in the classrooms.
To keep the device and students safe, only IT administrators can download and install apps and services directly on the device. In addition, schools can also additionally secure the laptops with the Kensington Nano Security Slot to control physical access. Furthermore, the Surface Laptop SE has a simple and effective device lock to lock the operating system when the notebook is closed.