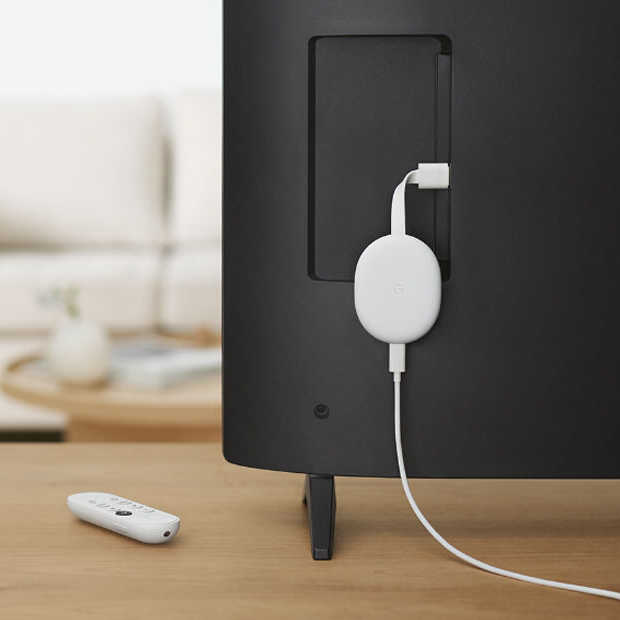 We have not had the Chromecast with Google TV in the Netherlands for very long, but a successor is probably already coming. Or actually more of a spin-off, because it is a cheaper variant that can only broadcast in a resolution of 1080p instead of 4K.
Chromecast with Google TV
Google has not yet officially announced the device, but it may do so at the same time as the Pixel 7 announcement. The new smartphone will most likely be announced on October 6, and with it possibly also the new Chromecast. He surfaced on a Brazilian blog called Technoblog and wears model name G454V. You wouldn't think it's a new device at first glance: it looks like its 2020 big brother.
However, he is not the same. This Chromecast with Google TV is considerably cheaper and you do sacrifice somewhat on the specifications. For example, you cannot stream images in 4K, but you can stream in 1080 pixels and at 60Hz. The gadget is probably called Chromecast HD. That compromise on image quality is a choice: after all, you can still buy Chromecast with Google TV in the Netherlands (unlike Pixel phones, by the way).
From 4K to 1080p
The version that is now out and can 'transmit' in 4K, it costs 70 euros, while the new variant, which is slightly less well prepared in terms of image quality, only costs 40 euros. That makes it an even better device to purchase for when you go on holiday, for example. You probably don't have great picture quality on the average hotel or bungalow television, so you might as well cast with a cheaper Chromecast. That would also make it a little less disastrous if he is accidentally forgotten.
You plug Chromecast into your television via one plug (in addition to a plug that you put in the socket). Then you can make a dumb television smart because a Google TV operating system is included. It actually works like a game console: as soon as you plug it in, you have a menu at your disposal in which you can choose whether you want to download a game or watch a Blu-ray. The same applies to Google TV, although you can choose here whether you want to watch Netflix or, for example, download and watch another streaming service.
google
Ideal for the often stupid televisions that you encounter in holiday parks and hotels. However, if you also watch a lot at home and on a television that can handle 4K well, the Chromecast with Google TV is probably still the best option for you. There is a good chance that the rumor about this new gadget is true: not only did the Brazilians come across the device, the American approval organization for electronics FCC has also already given its approval for the 'new wireless device' from Google.
In short, it's probably just a formality now that Google announces this cheaper gadget. So please be patient.
Laura Jenny
When she's not typing, she's traveling around the wonderful world of entertainment or some cool place in the real world. Mario is the man of her life,…