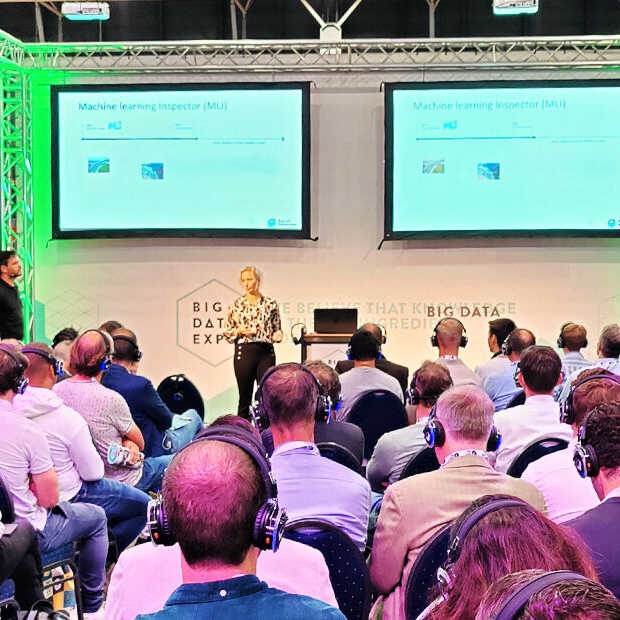 Whether you take an account with Adobe because you want to be able to Photoshop or if you are full-time concerned with the security of the data of thousands of customers: data concerns everyone. This is also noticeable during the Big Data Expo, where all kinds of people, mainly from the business world, know how to find each other. SMEs, multinationals, it doesn't matter.
Big Data Expo
Ralf Adang of organizer OGZ also endorses this versatility: "It is now the sixth time and you see enormous growth in this field. The market is maturing. When we started in 2015, big data was a new concept. Now we see different deliverers and exhibitors than before. It is becoming much broader, so SMEs are also fully present. There are people from data science, but also people from marketing."
"It's more and more about people. Due to the coronavirus, digitization has taken off and so has data-driven working. There is more attention to this within management boards and in addition to the tools that are needed, you also need a lot of knowledge. Here on the exhibition floor we see an enormous diversity of solutions: you will always find an exhibitor who can help you with a problem. In addition, you can brush up on your knowledge in the keynotes with impressive names," says Ralf.
Data Science Lab
One of the exhibitors is Data Science Lab. Not a huge company at all, but an organization that is at the heart of society. It mainly helps SMEs and therefore has consultants stationed at Alliance and Athlon, among others. Daan Duppen is such a consultant. "We also give a lecture here about what we have done at Athlon. At first they worked with an Excel sheet to keep track of which cars were leased. Now there is a web tool in which anyone can easily provide information about a lease car."
So no gigantic Salesforce packages. Daan: "That's the great thing about delivering custom work: it's really not always necessary to use large software packages. In addition, we also see the shift from making tools to informing people. You notice that you have to take employees with you when you introduce something new, especially when it concerns data. On the one hand they are sometimes afraid of automation because they think they will lose their work, on the other hand there is also fear about data leaks. It is therefore very important to have change management in order and we help companies with that too."
The choice for the Big Data Expo is therefore clear. "We are happy to be at this fair, because it is quite large and SMEs are also present here." There is therefore a lot of networking on the exhibition floor, not only at Data Science Lab. Plenty of explanation is given at many stands, but there are also many stands that try to entice visitors into a good conversation with games. Also very important is the large coffee square in the middle of the hall: during these two days, various good deals are closed on a sturdy container.
Grid operator Enexis
Annemieke Bulters of grid operator Enexis gave a keynote address about big data in an energy transition. Among other things, she said that we are facing many challenges in the field of energy. How can we get off the gas faster? What about the heat demand and the heat pump obligation that is coming? How do we translate the climate objectives? Enexis sees that data and digitization is the solution. It does not choose data-driven, that is too dangerous with gas and electricity: it prefers to work data-informed, so that there is always a human check."
According to Bulters, data works because it is accessible and of optimal quality and because it ensures that people can do their work better and faster. Besides that it can be a great catalyst in our energy system of the future. Her tip for working with data is that you should not build the foundation for too long, that you should opt for 'fit for purpose' and above all: that you have to start on time." Plus you probably shouldn't give up too quickly, because not everyone is ready to make that culture change.
Netherlands Police
Oscar Wijsman is a Senior Business Intelligence Expert at the police and spoke about data-driven police work in his keynote. The Netherlands Police is a large corps with 65,000 colleagues. 51,000 employees are operational and 14,000 support, of which more than 100 are data scientists. If there is one company that processes a lot of data, it is the police. Seizures, social media data, personal data, and so on.
Oscar: "It is essential for us to store that data properly, because that way you can establish links more quickly between different data. Data can reveal a relationship or a certain trend in criminal behavior. Because the law on penalties is being amended, we are waiting for the moment when we can combine data from different cases: that is something that is not allowed now."
Now the police often have to refer to the GDPR. Furthermore, it does not try to look for gray areas when it comes to data: it prefers to wait for legislation and regulations. In the meantime, data is being used in all kinds of ways to solve cases, with success. "The case that could never have been solved without data is that of crypto. This is an enormously large-scale case in which we have had tremendous success."
Schiphol
Tor Boe-Lillegraven is Schiphol's Chief Data Officer and he can only talk about one thing, of course. The long lines that are still present even well after the summer holidays. He explained why there was so much drama at Schiphol. One of the reasons is a problem with data, but especially the predictive effect of data: after all, it is difficult to estimate anything in a world that is so uncertain.
Tor: "I started working at Schiphol before corona started. I had made a wonderful strategy, but then I got a slap in the face in the form of corona. You have to be able to facilitate what is needed now and look at the long-term strategy. Extremely difficult. Schiphol welcomed 90 percent fewer passengers in 2020 due to corona. I was then asked: what do you think will happen?" Tor and his team set out to build ten scenarios to see what would happen to passenger numbers. Would corona remain small, or not? It decided to focus on certain things: security when there are no passengers? Not necessary. In the end, that turned out not to be a fantastic strategy, we are now learning, but it did offer air for other solutions."
Algorithms were trained that could help cameras see how long it took to refuel an aircraft, or to load packages, in order to streamline processes as much as possible. Something normally done by people. Tor: "This technology ensures that there is less delay. This is something that Schiphol could never have developed without corona." In terms of passengers, Schiphol is not yet at the level of 2019. Fortunately, because the processes at Schiphol are no longer as well-oiled as they once were. However, behind the scenes, a lot of work is being done on solutions, including the real-time display of information about crowds at Schiphol to help travelers make a choice. But, according to Tor: the biggest priority now is to make sure those rows are no longer there.
You can still go to the Big Data Expo tomorrow: it will take place on 14 and 15 September 2022. You can register for free on the Big Data Expo website.
Laura Jenny
When she's not typing, she's traveling around the wonderful world of entertainment or some cool place in the real world. Mario is the man of her life,…