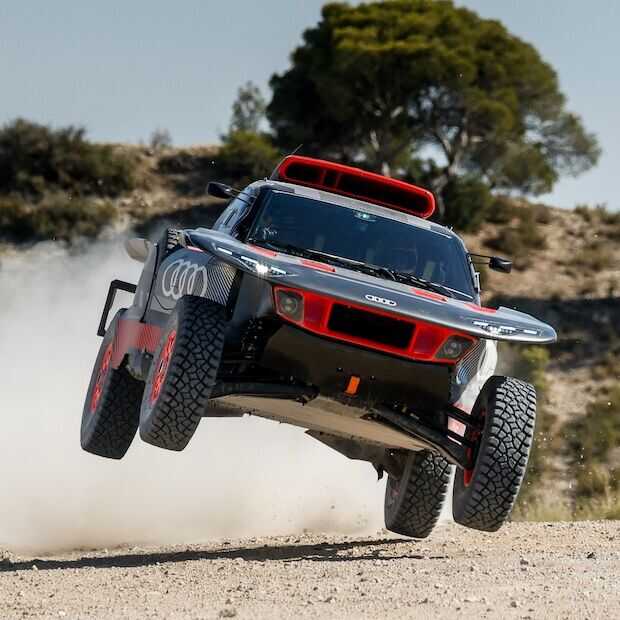 Audi once surprised the world of 24-hour races when the German car brand entered those races with a diesel. That turned out not to be a misstep because with a turbo diesel Audi managed to win Le Mans no less than three times in a row. A diesel, that is of course no longer possible in 2022. That is why Audi now has an EV rally car in its portfolio. The Audi RS Q e-tron E2 is indeed already the second generation of the racing EV, which drove around as a test lab in the Dakar last year. Mind you, it's a hybrid. In addition to the electric motor, there is also an internal combustion engine 'under the hood'.
To Dakar via Morocco?
His predecessor already won a desert rally in Abu Dhabi earlier this year. Whether the E2 version will make it to the start of the Dakar rally will depend, among other things, on how the electric race buggy performs during the Rallye du Marco, early October.
In terms of design, the hybrid rally buggy has been almost completely renewed, partly to comply with the new rules. Not one body part has been taken over from the previous model. The aerodynamic concept of the body between the front and rear is also completely new. The widest point is now the cockpit, while the body tapers towards the bottom. Audi has removed the fenders that were located behind the front wheels and formed the transition to the doors. This allowed the designers to save weight and reduce the total drag by about 15 percent. This does not change the top speed; this is legally limited to 170 km/h. However, the improved airflow offers a major advantage that reduces the power consumption of the electric car.
Drivetrain updated
The electric powertrain of the Audi RS Q e-tron E2 consists of a combustion engine and a generator, plus a high-voltage battery and two electric motors on the front and rear axles. Compared to the first version, the energy management in particular needed improvement. In extreme cases, that powertrain delivered too much power. This happened especially at times when not all wheels were in contact with the ground, for example during large bumps or jumps. Audi has solved those problems with the E2 by means of an improved power controller and fine-tuning of the software.