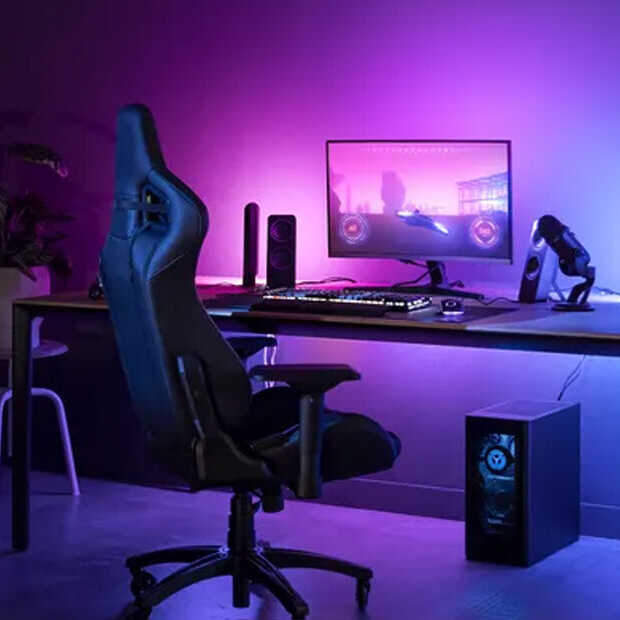 Philips has a gold mine with its Hue lighting line. It is of course an extension of Ambilight somewhere, which is what makes Philips televisions so popular. Meanwhile, Philips (or actually Signify, which uses the license from Philips) has already announced many different products in the Hue line, including yesterday a line with monitor lighting. Are places in the house still safe from Philips Hue?
Philips Hue lighting
If you are in the garden, you can switch on your Hue garden lighting. Do you want to wake up peacefully? Then the birds sing to you on the Hue Wake Up Light. In the meantime, little in the house is still Hue-free, but we can think of a few things that Philips Hue has not yet had any influence on.
The toilet
It often works great at parties: don't switch on the normal light of the toilet, but put a candle in it, for example. There are also tech fans who take a more fanatical approach, namely by attaching an LED strip in the toilet bowl. This way your toilet bowl will color the color of your choice. However, not all LED strips are equally well made for this. You can far-Hue-ify this solution by simply opting for the company's LED strip, but these are water-resistant, not waterproof, and that's a bit dangerous when it comes to the toilet. The Philips Hue Lightstrip Outdoor is an option, but it is a bit thicker. It would be great if Philips could make a kind of ball or strip that you can attach in your toilet bowl to be safe and sound as a good eye-catcher during parties. Or just normal, if you're really a big fan.
The fridge
If there is one light essential in the house, it is the refrigerator light. You never realize how important it is until it doesn't and your fridge isn't an oasis of good food, but a dark, cold den. Philips Hue could of course make a very funny fridge light, so that your fridge doesn't turn warm white next time, but purple, or red. It would be even nicer if it turned a different color every time the fridge opened. The only question is whether food still looks very attractive: red lettuce, purple cheese.. But for example, for a refrigerator in which you only store drinks, it would be a very cool solution anyway. It was apparent from the commercial below that it was already close to the fridge, but not yet in it…
The wall
Of course you can put a Hue lamp on the wall, or a light button, but no solution has yet been found for the wall from Philips Hue as we know it from, for example, Nanoleafs. They have turned wall lighting into a true art with their colour-changing panels that even come in a wood look. At the moment there is no wall panel from Philips Hue, unless you use the Aurelle panel lamp, but it is only available in square and costs 150 euros per panel, so that is not really the solution for a playful effect on the walls. Certainly if the Philips Hue wall panels could co-color on, for example, the Ambilight of your television, you can place it behind you on the wall for an extra intense light experience.
Laura Jenny
When she's not tapping, she's traveling around the wonderful world of entertainment or some cool place in the real world. Mario is the man of her life,…