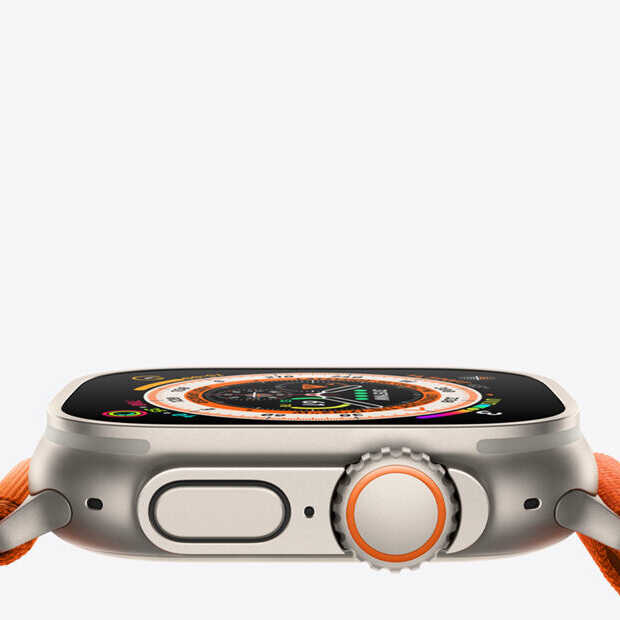 Apple today announced its new iPhone, AirPods and Apple Watch. For iPhone, we refer you to our article about the introduction of iPhone 14 (following), but we discuss all other announcements here, including the rugged Apple Watch Ultra.
Apple Watch Ultra
The rugged Apple Watch Ultra is for people who like to do extreme sports, such as diving or hiking. There is a new orange action button on the watch with which you can set which function it should have. The digital crown has been redesigned and to create more volume there is a second speaker in the watch. With the 86 decibel siren you can alert people who are near you, if you have fallen, for example. The watch will not break easily: it has a sapphire crystal screen.
The GPS, according to Apple, is more accurate than any other smartwatch. You can use this watch for 36 hours, but there is also a special battery mode where you can use the battery for 60 hours. The special straps for this gadget are striking. There is a thin, light strap for runners, for example. Apple Watch Ultra is 49 millimeters in size and will be released on September 23 for 999 euros.
Apple Watch Series 8
Furthermore, Apple has mainly focused on the temperature measurement of the Apple Watch. During the presentation of the Apple Watch Series 8, for example, it mainly spoke about how the thermometers can help women understand their cycle. You've been able to track your cycle on your Apple smartwatch for three years, but now there's more information about when you're most fertile, based on your body temperature. It is measured by two thermometers: one that is against the skin, and one that is under the screen.
The eighth generation of Apple's smart watches are also very similar to their predecessor: the design is almost the same with a variant of 41mm and 45mm. The device has an always-on screen and can do many of the same measurements. Think of tracking your sleep, making heart movies, knowing when you fall, measuring blood oxygen levels and helping you with workouts. A new crash detection has been added, where the watch knows when you have a car accident, just like with the fall detection. If he does not come home with a report, emergency services and emergency contacts will be informed.
You can wear the watch without any problems while swimming or during a day at the beach, because it is waterproof and dustproof. Material has also been used so that the screen does not break easily. Apple Watch Series 8 is available in aluminum in midnight, starlight, silver and product red. The stainless steel version comes in silver, gold and graphite. Of course, the new watch is accompanied by the necessary new straps and watch faces (including Hermes and Nike). Apple Watch Series 8 costs from 499 euros. It will be available from September 16.
Apple Watch SE 2
Apple has also unveiled a new SE after two years. The Apple Watch SE 2 has a 30 percent larger screen than its predecessor and is 20 percent faster in terms of performance. You can also make heart films on this smart watch or find out how your blood oxygen level is doing. Apple Watch SE 2 comes in midnight, starlight and silver colors. It is now available for 299 euros.
AirPods Pro
Apple announced three new gadgets tonight: iPhone, Apple Watch and AirPods Pro. The second generation AirPods Pro are exactly the same in design, although the rods have a special layer that makes it even easier to adjust the volume. There is a new driver and a new amplifier, but the biggest change is that the noise reduction has been improved twice compared to the predecessor. The quality of the audio is also better due to the H2 chip.
The earbuds can last 6 hours without a case, but if you occasionally put them in the case, they can last a total of 30 hours. You can charge the case with a lightning cable, wirelessly via Qi or MagSafe or with the Apple Watch charger. The case can be quickly found via the 'Find My' app on Apple and Precision Finding. There is a hole in the box so you can attach it to a lanyard, but there is also a speaker inside so that the case can make noise and you can find it faster. Do they not fit your ears very well? There are new ear rubbers: you can now choose from XS, S, M, L and XL. Airpods Pro 2 cost $249. They will hit stores on September 23.
Laura Jenny
When she's not tapping, she's traveling around the wonderful world of entertainment or some cool place in the real world. Mario is the man of her life,…