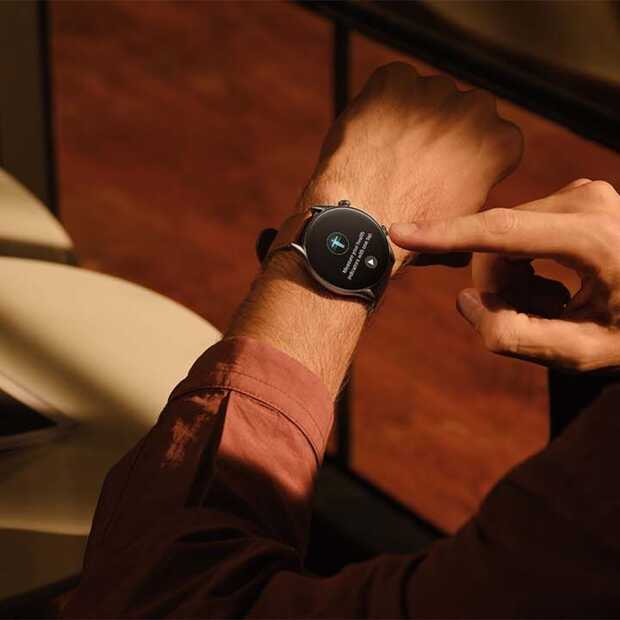 When you think of wearables, you quickly think of a Fitbit, for example, which is in the news a lot due to the acquisition by Google. Does that takeover seem like nothing to you or do you not want to spend that much money on a wearable? Then there is hope on the horizon, as Amazfit has arrived with a strong lineup of wearables.
Amazfit has been around since 2015 and has been very successful in other countries, but is now also settling in the Netherlands. It mainly wants to put itself on the map with the new GTR 3 and GTS 3, which are lightweight wearables made of aluminum with curved glass. This ensures a stylish look, combined with many technological options. The screen is AMOLED HD, which ensures that the content splashes off the screen, especially if you see a lot of colors. In addition, a big advantage is that you can use the smartwatches well in bright sunlight. Plus, you can choose from over 150 watch faces, so you can match your smartwatch with your outfit.
Classic design

GTR 3 Pro has a fairly classic design with its round clock, where you can use a crown to navigate through your apps and menus. The device weighs only 32 grams and you can swim, sweat and shower with it without worrying that it will stop working due to water damage. Like other Amazfit products, this wearable runs on Zepp OS, an operating system that is specially made for wearables and you notice that: you can easily navigate through it.
What helps is that the screen is quite large: 1.45 inches with a screen-to-body ratio of 70.6 percent. If you still have trouble with the menu, you can also enable Amazon Alexa. This voice assistant lets you, for example, operate your smart home or list your to-do list. Going for a run or a walk or wearing your wearable? This is not only useful for keeping track of your steps or your heart rate, but also for listening to music. You can store 2.3 GB of music on it (about 470 songs) and it is possible to connect a Bluetooth headset. You can simply leave your phone at home, which saves ballast on your run.
GTR 3 Pro
If you're on the healthy side anyway: GTR 3 Pro (available via bol.com, among others) can track your heart rate, the oxygen content of your blood, the stress level and your breathing. In addition, if your heart rate is extremely high or low, you may receive a notification to let you know. This is especially useful during a workout, because it allows you to adjust your exercises slightly for an effective, healthy workout. There are over 150 sport modes to choose from, making it even easier to track your workout. The wearable also tracks your sleep, so you know how many hours you have had before you start your day (or your workout).
One of the great advantages of these wearables is that they work with both Android devices and iPhones. Moreover, you do not have to charge this smart watch very often: the battery lasts more than a week (although that of course depends on how fanatically you use it and for what). If the GTR 3 Pro is slightly above your budget, you can also look at the standard GTR 3 or the GTS 3, although they do not offer a speaker, WiFi and music storage, for example. However, GTR 3 has the advantage that the battery lasts much longer: no less than 21 days.