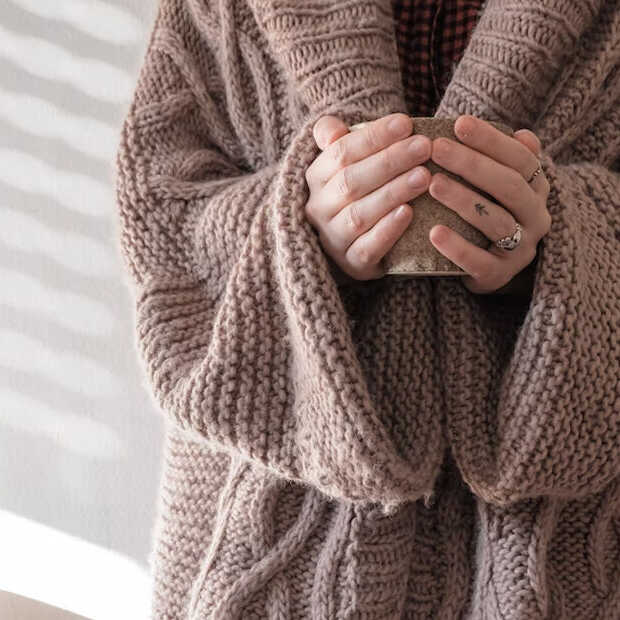 We look with fear and trembling at the energy report of our energy supplier every month, but did you know that there are many ways to get those high bills down? Of course it is wise to take double glazing or solar panels, but those are firstly expensive projects and secondly, not things you can do tomorrow. With these 10 tips you can quickly save energy and gas.
Turn your thermostat down a degree
You really won't notice it, whether it's 21 or 20 degrees in the house. Make sure you use your thermostat wisely. Only turn it on when you start to get really cold and set it to 15 degrees at night anyway (unless you have underfloor heating, then 17 degrees). Are you cold in your bed? Then consider an electric blanket or a hot water bottle: that way you don't have to heat an entire house for those 2 square meters on which you are cold.
Use your smart thermostat wisely
Also consider a smart thermostat or use it properly if you have it. Do you know you won't be home for a long time? Then just slide the heating to 15 degrees. The advantage of a smart thermostat is that you immediately get more insight into what you have to spend in costs. Plus: you can set programs to it. Be careful though: if your life isn't that regular, you're probably better off using the 15-degree-unless method. Also, don't forget to set the thermostat down an hour before going to bed: heat lingers for up to an hour.
Stick radiator foil
Radiator foil is extremely effective at keeping heat in. Especially if your radiator hangs on the outside wall, there is a good chance that a lot of heat is lost to the outside. In turn, radiator cladding is easier to remove: in some cases this prevents the heat from radiating properly. Of course, insulating your outer wall is even better in the end, but especially if you are looking for a quick fix, sticking radiator foil is a good and cheap solution.
Close all doors
It's typically something parents and kids argue about: shut that door behind your ass. However, those parents are right: the heat that disappears upwards to rooms where it is not needed can save you hundreds of euros a year. If your children are really very hardworking, you can also consider a door closer, so that the door closes automatically. Also useful for people who cannot sit still and therefore use the door a lot.
Choose a water-saving shower head
You can easily save money in the bathroom. If you're holding your toothbrush in your right hand, try to avoid turning on the tap with your left: there's a good chance you'll turn on the hot tap, and that's not necessary at all. It is also advisable to take a bath less often and to shower less. You can also clean yourself in three minutes. You may also want to invest in a water-saving shower head, because you will not notice this much and you will use up to 20 percent of water and energy.
Get rid of those sneak consumers
Although many people think that standby equipment is not that problematic, 75 percent of the energy is lost with such a device. Does the Airfryer really have to be plugged in all the time? That television in your bedroom that hasn't been turned on for half a year? Make sure you unplug the plug-in consumers: that immediately saves you a fire risk. Also pay close attention to chargers for mobile phones, for example: they often cause fires. If you have devices that you do use regularly, you can also look at a power strip with a switch, so that you can switch everything off or on in one go.
Defrost your freezer
You wouldn't say it, but a two millimeter layer of ice on the freezer element can already result in 10 percent more power consumption. In addition, it is hygienic to defrost and clean your freezer every now and then. Did you know that it is recommended to defrost your freezer every two months? It's not an ideal job, after all, there are things in the freezer that you would like to keep frozen, but it can save you a lot in terms of energy to incorporate this good habit into your household chores.
Choose LED
It is not for nothing that the government has banned the light bulb: they consume energy. Now you may think that you are doing something sustainable by using up your old light bulbs for a while, but that is not the case at all. LED bulbs are 85 percent more energy efficient than incandescent bulbs. With halogen lamps, the difference is still 75 percent. So get rid of it. The LED lamp may be a bit higher in purchase, but it pays for itself in no time in what it saves you. They also last 9 times longer than a light bulb, so count out your profit.
Put a motion detector on your outdoor lamp
Do you have your outdoor lamp on all night? Why? If you want to deter burglars, you can also do that by using a motion detector. Then the lamp only turns on when someone is walking nearby. Also handy for yourself: if you still have to do something in the garden, the light will switch on automatically. It is also a lot better for nature, because that artificial light is not conducive to insects, for example.
close cracks
Do you have a huge crack in your wall that almost freezes the entire hallway when it's a hard winter? Get rid of it. Make sure that heat cannot escape and cold does not get in so easily by closing the cracks properly. Just buy some draft strips for windows and doors, because not only is it good for the temperature in the house, it is also a lot more pleasant if there is not always a breeze. Just go through your house with the strips and sealant and you will save a lot of inconvenience, gas and money.
Opt for smart gadgets
Although you should definitely be careful that they are energy efficient and fulfill an important function, in many cases smart gadgets are a good solution for saving energy. They can often be switched on and off remotely, which means that you can ensure that energy is saved remotely. For example, you may have curtains that can be closed and opened remotely: if you are not at home, you can close the curtains remotely. That saves a lot of heat.
Think about every gadget whether it can be done better
Every gadget you have at home consumes power. Is that specific gadget an addition to your household, or is it better to get rid of it? And the gadgets you do want to keep, is there a way to use them more energy-efficiently? For example, when washing, there is a lot you can do to save money. Such as not washing just one outfit, but making sure that the drum is relatively full, washing cold and washing a towel with it. The latter ensures that the laundry probably comes out less wet.
Ditch the dryer
By extension, do you really need that dryer? If the weather is nice, there is really no reason to use the dryer. The sun may not be ideal for the colors of your clothes, but it certainly isn't ideal if your clothes keep rubbing against each other in a dryer. Even in winter, a nice winter sun can ensure that your clothes dry. That saves hours of giga power consumption and your clothes will thank you. You can therefore continue to wear them much longer. That also saves on the wallet.
To cook? Use the kettle
Do you want to cook potatoes and cauliflower? Then don't put a pan of cold water on the gas (and even better: don't cook on gas), but boil the water in the kettle first. As a result, it takes less time for it to be hot in the pan and the gas does not have to be on for as long. Also check whether it is really necessary to use two pans when cooking: can't the cauliflower simply cook in the same pan as the potatoes? After all, both have to cook for about the same time and it saves a gas-consuming burner if you cook it separately.
Use less water
Not everyone immediately thinks of water when you think of saving gas or electricity, but it makes a difference. We've already talked about the shower, but there are other ways to minimize your use of hot water. For example, wait as long as possible before turning on the dishwasher (or wash by hand) to save a lot of hot water. You might even consider taking a shower at work or the gym to cut costs. Plus: you can be found there regularly, so why not make use of the facilities?
Go for blankets and sweaters
We've already had fifteen tips, but there's still room for one more. After all, it's for a good cause. In line with the first tip, namely to turn the heating down, you can also think about the clothes you are wearing. Swap tights for tights and wear a sweater instead of a t-shirt inside. Put a cozy blanket on the couch and you will notice that you are much less likely to turn up the heating. As a result, you do not have to heat an entire house for people who spend hours on the same square meters.
Laura Jenny
When she's not typing, she's traveling around the wonderful world of entertainment or some cool place in the real world. Mario is the man of her life,…