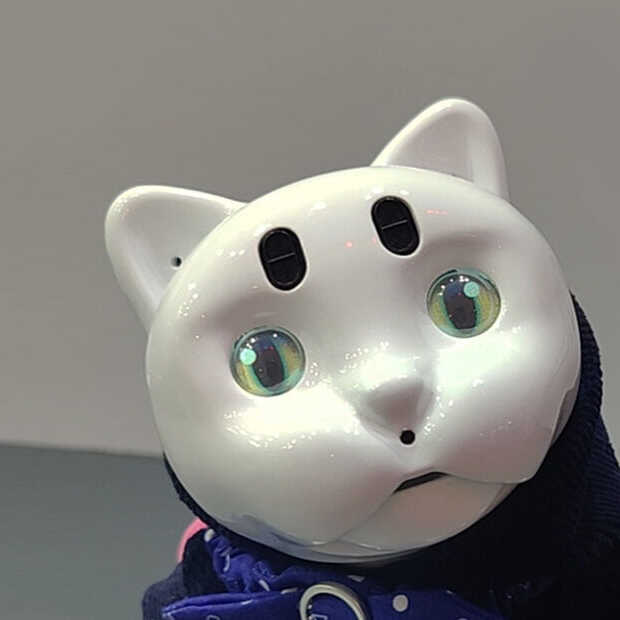 IFA 2022 is all about several things this year. Televisions, white goods and audio remain important and big, but not as big as in previous years. Our first impression of IFA 2022 can therefore be read in the article: IFA: smaller, quieter and notable absentees. Time for a deeper dive into the world of eye-catching gadgets. IFA does not disappoint this year either.
Craziest gadgets from IFA 2022
For example, we spotted the 'smartwatch' for dogs that we described earlier, as well as the cute cat robot Maicat that you see above this article. However, there is more to see at IFA. Remarkable gadgets from big brands, but also a lot of small providers who hope to conquer the world with their solution. After all, that is what it is ultimately about at IFA: there is a problem (however big or small) and a solution can often be found in technology.
Verisure ZeroVision
Do you have a camera at home to keep an eye on things when you are not there? Very handy, but what if you spot a burglar? You can of course call him through your camera and make him run away that way. However, you will always see: then he just grabs that expensive chain or car key in a bowl by the door. With ZeroVision you have a small smoke machine at home, as it were. As a result, the burglar can no longer see anything, so that he is unable to snatch anything with it.
Candy Aquamatic
It's the smallest washing machine in the world, but that's not even the most striking thing about this piece of white goods. It's not exactly white. Candy makes washing machines with faces. At the bottom right where the filter is located you see, for example, a tongue, on the left is a corner of the mouth and in the middle is the eye in the shape of the drum. A real eye-catcher.
Bosch FreshUp
Have you just put on a new shirt, are you going to a party where everyone is smoking fanatically. Or maybe you've had an evening of gourmet and you wonder if your pillows will ever get rid of that smell. Bosch has developed a solution for this, because with FreshUp you can remove odors from textiles using plasma. That can be done in a few seconds.
Netatmo Smart Key
An ordinary door lock is not always useful: if you want to give other people your key, you have to copy it and then it is always questionable whether you will ever get it back (and it will not be copied). You also have smart locks, but those are a bridge too far for many people, especially because of the internet connection they get an unsafe feeling. Netatmo has come up with a hybrid on this. You get a physical key with a digital part in it, with which you can open the Netatmo smart lock, if you have physically enabled it at the lock with the help of a special stick. Because it works with Bluetooth, you can't control your door remotely, but because of this the lock is not on the internet either.
Aria air purifier with plant
An air purifier is often quite a beast in the house, but at IFA we see different ways to disguise that. LG, for example, has air purifiers in the form of tables, while Aria (see below) has developed an air purifier that also serves as a plant pot. It not only looks cozy, you can even do double air-cleaning if you choose your plant wisely.
The Little Cat
Cats are great, but sometimes it's hard to keep an eye on their health. With the My Little Cat bowl, your cat is served a bowl of food, while he is checked in all kinds of areas, such as his heartbeat. The Little Cat is the creator of the 'conveyor belt' for fat cats, so this fits perfectly.
MyEli
Do you sometimes feel unsafe, for example because you have to walk home at night through an unsavory neighborhood, or because you are going on holiday in a country where you don't know what to expect? The French MyEli developed a bracelet that looks like a stylish piece of jewelry with a stone on it, but secretly that stone is a button with GPS in it. If you press once, someone who flags you in advance will be informed that you feel unsafe. He or she will then receive a message. However, if you then press the button twice, that person will receive another app, namely that you are safe.
Therabody Recovery Air
Therabody is known for its massage guns, but it has also created a special RecoveryAir massage gadget. These are a kind of stockings that you put on and which then ensure that you are massaged via air pressure. Good for your blood flow and for your muscles, so ideal for athletes. Especially athletes who don't mind looking crazy, because they are big things.
LG MoodUP
LG has won IFA of all brands. Not only does it have a huge, impressive booth, it has developed multiple gadgets that are widely talked about. One of them is LG MoodUP, a refrigerator whose contents are not interesting, but the front. These are light panels that you can give a different color yourself. In the app you choose which color you like for which panel and within a second your fridge will look the way you have selected it.
Livall Smart Motorcycle Helmet
Motorcyclists already have access to communication systems with which they may be able to listen or talk in their helmet, for example, but Livall thinks things could be a bit smarter. It developed a smart motorcycle helmet that helps, among other things, by offering extra light at the rear, GPS, speakers and of course the necessary safety for the head. The coolest thing is probably the screen in the engine, where you can see, for example, your navigation and your speed.
LG Styler
Do you save sneakers? Then of course you want them to remain as beautiful as possible, so just leave them in the box. A bit of a shame: firstly, you don't see them, secondly, they are still exposed to outside influences in a box. The LG Styler is a translucent shoebox that even keeps out UV light, so your white Nikes actually remain white.
kite winder
One of the more unusual inventions that we have seen at the fair is the Kitewinder. It is a kind of pulley with a kite that can quickly provide you with energy. It is a wind turbine with which you can generate 100 Watt in 5 minutes. Very useful for people who like adventurous camping trips.
Skinetic
While there weren't many, there were some interesting metaverse and virtual reality inventions. One of these is Skinetic, a kind of body warmer with technology that not only transports you visually through your VR glasses into that other world when playing VR games, but also in terms of feeling. If you get a shot on your body, you will really feel it with this body warmer.
City Transformer
The photo looks stretched, but that's not the feeling: the City Transformer is a really weird little car. It looks like a Biro, but is slightly smaller: the company even promises that no fewer than four pieces will fit in one parking space. In addition, the chassis can also be expanded if you need a little more grip.
Soundslayer
At the Panasonic booth, we saw a wealth of televisions, kitchen gadgets and cameras to make you greedy, but one gadget stood out the most. Soundslayer is a pair of headphones, but for your neck. It's an audio device that you put on your shoulders, making you more comfortable and still getting all of the sound (while also allowing you to have a conversation with someone else if you need to). This special Final Fantasy edition was shown at the fair in combination with the game, but this special 'scarf' is also very suitable for other games.
Laura Jenny
When she's not typing, she's traveling around the wonderful world of entertainment or some cool place in the real world. Mario is the man of her life,…